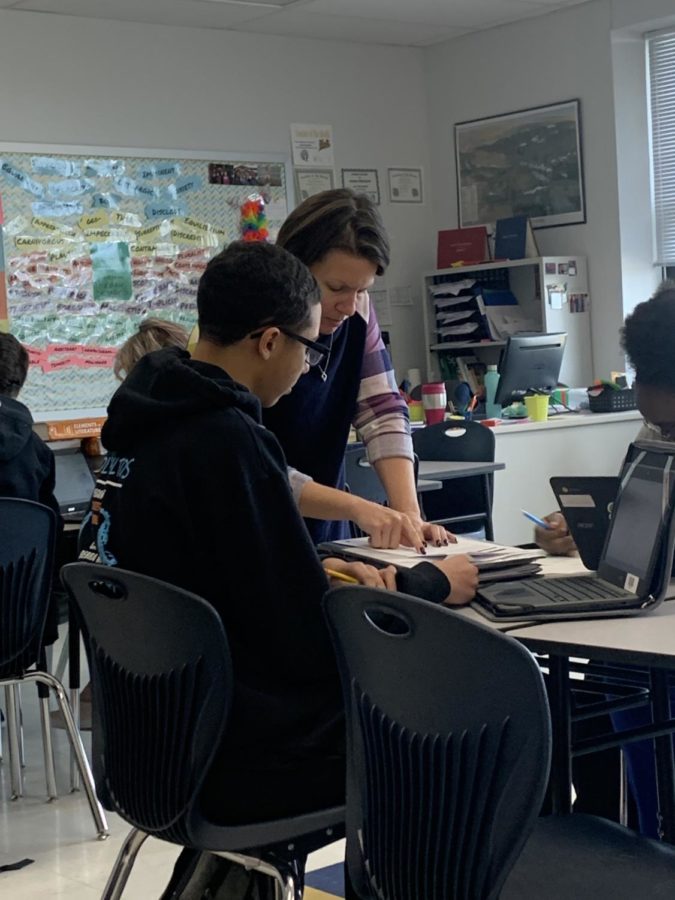 Elizabeth Barrale
Many teachers here at Holt High School have been teaching for quite a while. Mrs. Sarah Vogelman has been teaching for 23 years. She is incredibly smart, so smart that she has a degree in English, a bachelor of science and a master's in teaching. Not many teachers are able to get that many degrees in such a short period of time, so its really amazing to see a teacher so smart here. Vogelman went to quite a few colleges. That way she could get the best education possible. She really enjoys teaching English.
"I love that it's never boring and that you can always change it up," Vogelman said.
Growing up as a kid she really enjoyed English class, which is part of the reason that she became an English teacher, but she also enjoyed physical education.
She really puts effort into teaching her class and she always makes sure that her kids understand. If there is any child that is struggling with turning his/her work in or just struggling in her class, she is always on top of making sure the student knows what they are doing.
After talking to some students in her class, they have all informed me of how wonderful of a teacher Vogelman really is. They all said that she takes the time to teach them at the best of her ability and if they need help she is always right there next to them leading the way.
Some high school teachers will sit there and not really care if the student passes the class or not, but Vogelman is not one of them. Teachers like Vogelman will always do the best of their ability to make sure all of their students pass their class.
Vogelman enjoys her job so much that she even teaches summer school for the first month of summer. But with her spare time in the summer she likes to travel, but she also enjoys going and seeing her family that doesn't live near her.
Something that she has learned from being a teacher is that you need to be able to get used to things the way that they are. While being a teacher she says that you have to be able to go with the flow. Not everything is always going to go as planned, there are absences, kids not behaving correctly, and so many more factors that lead to being able to go with the flow. If you can't then being a teacher isn't the job for you.