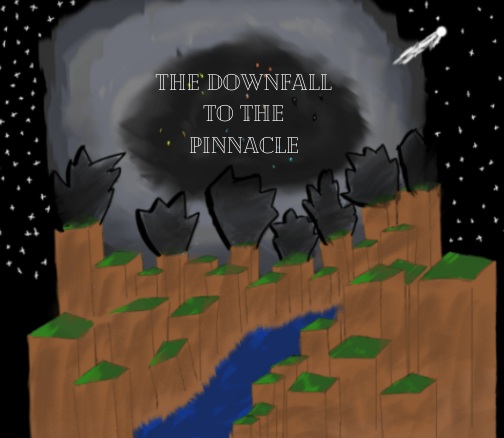 Created by Lauren Johnson
There are many different styles of video games that are being released everyday. As a videogame reaches its popular peak, there will always be its downfall. On November 18, 2011, Mojang released the game 'Minecraft', and that is when the game changed the world.
Starting from the beginning when Minecraft was released, less than a month into beta testing in 2011, the game was able to reach one million sales. In quarantine, as of May 2020, there has been an increase of 200 million copies sold worldwide. Minecraft so far, has accumulated 126 million active players worldwide.
Minecraft started to reach its popular peak in 2012 and 2013, but slowly started to decline until 2019. Causes of the decline were most likely due to not enough quick updates, majority may have gotten burnt down from the game, most of the players have grown up, or new games coming out. 
"The updates were less substantial most likely, and a few of the original YouTubers' "Let's Plays" finished," Hayden Milligan ('24) said.
As a video game releases, the chances of discovering bugs and glitches within a game is a very high chance.
In 2012, upcoming games were rising to popularity, and one of them is still popular today. Mario Kart 8, Call of Duty, Destiny, Super Smash Bros and Roblox have all been games that could have been a major cause of Mincraft's popularity decline. Currently, Roblox is still a popular game, even though the game was released in 2006.
 "I think it is because Roblox was becoming very popular," Isabelle Kallbrier ('24) said. "A lot of the youtubers I watched posted less Minecraft content, and more Roblox content." 
Youtubers have been a major key to gaining videogames their success in popularity and gaining sales worldwide. 
Minecraft started to massively gain popularity in 2019. Youtubers were likely the change for making Minecraft reach its popular peak from 2019 to now. One youtuber in recognition for having a massive part-take in this, was PewDiePie.  
As Minecraft is still gaining popularity, speedrunners are becoming more popular, one speedrunner that is well recognized is Dream.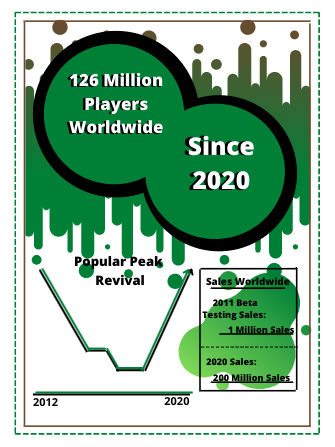 Video game players will always have their favorite game, Minecraft, most likely being most nostalgic for some. For nostalgia, many have visited Minecraft during quarantine to see what has changed. As for youtubers, some even started to make their own SMPs (Survival Multiplayer Servers).
"The Nether Update helped Minecraft gain a lot of traction with the newer audiences, as well as bringing old players back to see what changed," Xavier Schulte ('21) said.
Changes that happened to Minecraft resulted in the news of Mojang releasing the news about a cave update (1.17) during summer of this year. 
For streamers and youtubers displaying different styles of content causes the increase of viewers, and new players to play the game. Adding new players to the game results in a gradual increase of new ways to play Minecraft. 
"The large amounts of youtubers and streamers that all have a different personality and the way that they all do different things in the game I think helped influence more people to want to play it themselves," Mette said. "I also think the ability to have so many mods and servers (the multiplayer aspect) is really crucial."
Youtubers having their own ways of incorporating their creative ideas into Minecraft, steps up the ways players can get inspired to also play Minecraft.
An event that happened in 2019 that sparked popularity for Minecraft was 'Mincraft Monday', which happened every Monday during summer and consisted of different content creators, not just minecrafters. During 2020, some of these youtubers have found themselves in a Minecraft server called 'Dream SMP', which is still continuing to gain massive popularity amongst new viewers.
"I've seen that there is a community of fairly popular youtubers that focus towards SMP's on Minecraft with other youtubers and gained a massive following and fanbase," Amber Miller ('22) said. "Also fans could have been pushing for more updates and ideas for Minecraft, since the original update with a lot of newer mobs (phantoms, guardians, villagers) were because people were saying that Minecraft was too easy, so Jeb decided to step it up." 
Minecraft SMPs have had tons of attraction in past years and recently, the fanbase for these SMPs continue to grow.  
Currently, Minecraft videos on YouTube have a wide range of different styles of content, whether it is mods, speedruns, or challenges. As of now, Minecraft is one of the most viewed games on Twitch. During a recent stream that took place on January 20, streamer 'TommyInnit' surpassed over 650k viewers, while normally getting 250k viewers averagely while streaming Minecraft. 
As Minecraft is continuing to rise in popularity, there is no approach in sight for its decline in popularity. Minecraft is a game played by players worldwide, and incorporates their creative ideas into a reality in the game.