The Welcoming Aroma of Crumbl Cookies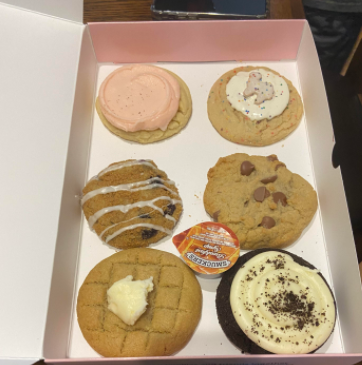 Gaining increasing popularity from Tik Tok and other media platforms, Crumbl Cookies awes an outstanding amount of people with their eye-appealing delicious cookies and ice cream.
Crumbl Cookies is a bakery that is known for their large array of cookies that switches out every week. Each cookie has its own unique flavor and is served either warm or chilled depending on the type. 
"I really like how they change. It makes you try new cookies you may not have tried if there were the same options each week," Molly Sizemore('24) said.
Flavors can go from nostalgic chocolate chip cookies and sugar cookies to flavors like waffle served with syrup and Captain Crunch.
"It is exciting to see if they have good flavors [that week] but I wish they had some samples," Brooklyn Johnston('24) said. "They are good quality, huge cookies, and very tasty."
These baked goods are so delicious and sweet. They are big enough to share with others as well. 
"I like their [Crumbl Cookies] products because they are large cookies which means if you don't finish them you could share it or save it for later," Serena Landry('24) said.
It could be debated whether this cookie shop deserves all of its fame and attention. Are they overrated or worth every cent spent?
"I think they deserve the hype, I've never had a cookie as amazing as Crumbl," Samantha Fairbridge('22) said.
"They deserve to be Tik Tok famous," Sizemore said. "They work really hard and the cookies are amazing."
While it is nice to have ever changing flavors each week, it would also be appreciated to have more staple flavors besides a sugar cookie and chocolate chip cookie.
"It gives people the chance to try new flavors they would never usually have," Fairbridge said. "However if there's a really good one the next week its gone and they have to wait a few months at most."
Calling this small bakery shop outstanding and a five-star dining experience would be the easy way out of this, but the cookies may not be worth the price and drive to get new flavors each week. They may be delicious, but so are homemade cookies from home.