What's Happening in Israel and Palestine: What to Know and How to Help
Since as early as the 1900s, Israel and Palestine have had conflicts over land occupancy. Since then, the United States has intervened in the Bush, Obama and Trump administrations. The tensions are escalating at a shocking rate: and the United States has just intervened under the Biden Administration.
Tensions Escalate
The dissention between Israel and Palestine over the occupied land in the Middle East quickly turned physical last April on the 24th when Israel fired dozens of rockets onto Gaza, a self-governed Palestinian city, killing almost two hundred and injuring hundreds. The death and injury toll continues to rise at an unprecedented rate, leading many people in other countries to create campaigns and fundraisers in order to spread awareness regarding the situation.
Ethnic Cleansing: The systematic or forced removal or extermination of ethnic, racial and/or religious groups from a given area, often for the sake of making a region ethnically homogeneous. 
Israeli and Palestinian forces have been clashing since the ethnic cleansing of Palestinians from 1947-1949 from Israeli forces that destroyed approximately 530 villages; over 750,000 Palestinians lost their homes and now occupy refugee camps.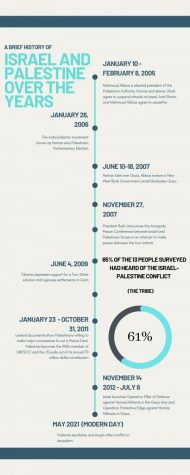 Foreign Countries Recognize the Issue
This isn't the first time Israel and Palestine have gotten physical, though. From the use of rockets and firearms, the tension between Palestine and Israel has risen up once more since Operation Protective Edge in 2014. Because of the continued violence against several innocent citizens of Palestine, many people regardless of ethnicity have expressed support for Palestine. Hashtags like #freepalestine, #gazaunderattack and #savegaza have been trending on platforms such as Instagram and Twitter in an effort to spread the word about the war-torn country.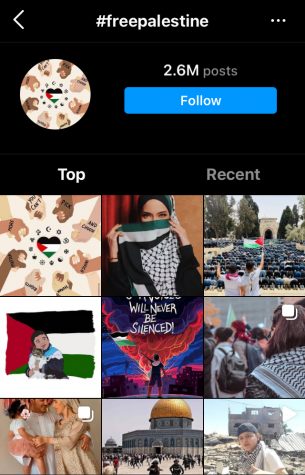 "Palestinians lives are almost completely controlled by the Israeli government despite Palestine being recognized as a completely different country with a completely different government," Andrew Frecks ('22) said. "It doesn't matter what religion you affiliate with; what Israel is doing to Palestine is absolutely deplorable."
America's Conflicting Policies
As of January of 2021, according to the US Department of State, Israel and the United States' bond has 'never been stronger'. This puts the United States in a conflicted position, though. The United States and Israel have a very strong commercial relationship as Israel is the United States' largest trading partner. The situation of the Israeli government having so much control over Palestine despite Palestines' independence struck controversy due to the United States' continued financial support of Israel. 
"It's rather the same as always. America, the nation previously known for 'it's all by ourselves nature', decided to open up and pretend to play mom for everyone. Not that it's a bad thing,"  Travis Wimberly ('22) said. "Parents aren't perfect; neither is the president and such."
President Biden did however tell Israeli Prime Minister Benjamin Netanyahu that the US government was working with Egypt in an attempt to stop hostilities in the area. While some people think this wasn't enough and the US should make more of an effort to support Palestine and Gaza, others believe that the US shouldn't get involved.
"I don't think we need to be involved because it's not our problem, and we need to stay away from any war debt we possibly can," Emily Beard ('24) said.
So, should The US make a deliberate effort to step in?
The United States is a nation that cemented its legacy in defeating oppression – after all, this nation was built on individual and guaranteed freedoms. It could seem almost hypocritical to be neutral or even assist the repressors, but the situation is complicated. Clearly, the oppression and violence in Palestine are an issue. The lives of innocent citizens are at risk every day, with several Palestinian residents having nowhere to live and surviving in very dangerous conditions. There are some citizens who do not see this as a problem for the United States, however; and that a global superpower such as the US intervening could escalate the situation instead of easing it. 
"Hamas is a terrorist organization and must be stopped. I strongly disagree with any decision to support these terrorist organizations," London Butler ('24) said, "but if there are innocent citizens in Palestine or Israel then I support the medical/evacuative assistance."
Imperfect Problems Call for Imperfect Solutions
Like any international affair, it's important to look at the situation from every angle and perspective. The ongoing tension between Palestine and Israel is a difficult situation with no perfect solution. Even though US intervention is risky, many people have set up fundraisers and petitions such as the IMEU (Institute for Middle East Understanding), a nonprofit organization that provides facts and reliable resources about Palestine, and the MAP (Medical Aid for Palestinians), which works to provide health and immediate medical aid to Palestinians living in refuge. 
Even if you don't have money to donate, you can still help by spreading the word about what's going on in Palestine. Sites like Instagram and Snapchat are perfect for getting the word out to people who have no other way of knowing what's happening. Listen to Palestinians. Use your platform, no matter how big or how small to educate. The only way we can help is if we're aware and educated.
War is messy and there's no right answer – but we can still do some good in the meantime.