Soaring Through the Sky
"I was nervous as ever, but I plunged my pole into the ground and soared over the bar."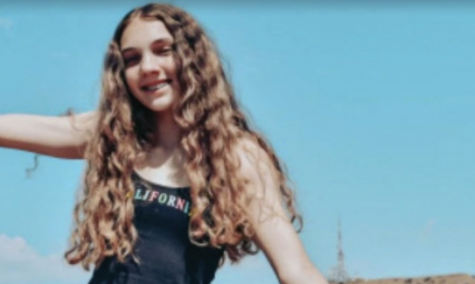 Young athlete Mariah Zeuschel leaps in the air with everything she has and flies high in the air.
Zeuschel attends Holt High School, and she started pole vaulting in 2020 three times a week because her coach pushes her to do it.
"I actually didn't want to do it at first," Zeuschel said, "but now it makes me feel more confident."
Zeuschel said she would recommend pole vaulting to other people because it doesn't require a ton of running, it is fun, and she made new friends during the sport.
There are many athletes and most athletes know accidents happen and injuries occur.
"I sprained my ankle one time – when we were all practicing," Zeuschel said.
But the risk is not enough to discourage her from competing.
Another time, Zeuschel fell during practice, and the pole landed on her forehead.
But despite all the injuries athletes could get in pole vaulting, there are many different emotions that come with sports.
Athletes could possibly feel terrified not knowing if they did good or not.
They feel their palms sweating, and then their sweat makes them itch and they can feel all eyes on them.
They could feel angry knowing that they disappointed everyone in the crowd including their team.
Athletes could also feel exhilarated and feel the wind blowing through their hair and the sun shining on them.
They can feel all their worries wash away, feeling like they were flying, knowing that this was their best jump yet.
But despite those risks, Zeuschel's growth as an athlete continues to motivate her.
"During pole vaulting, you know the exact measurements and everything," Zeushcel said. "You feel more and more accomplished every time you go up."