Lewis and Clark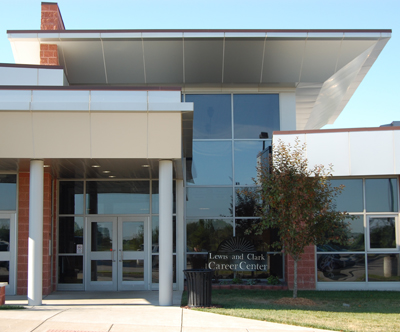 Have you ever wondered what it would be like to learn outside of Holt? Well, there are many options such as the early college program, dual enrolment options, and Lewis and Clark. Today we'll be talking about Lewis and Clark, but what exactly are Lewis and Clark?
According to the school's website, it's a technical school designed to provide students a rigorous, supportive, and meaningful career and technical education program designed to meet the needs of our community. With 17 programs available in eight different categories, there are tons of options available for students for whether they want to be a doctor or a police officer when they grow up. But what do Holts Lewis and Clark students think about the school?
"I joined the health-related occupations class at Lewis and Clark Career Center. I am taking this course because it teaches a wide variety of medical material and I plan to join the medical field someday," Mitchell Reed ('23) said when asked about his program. "To me, it is an amazing experience. I always feel like I am there for a reason. It's a major difference to the typical high school experience."
"(I'm taking) Computer Software Development. I chose it to learn how to program, I want to develop my skills and create websites or video games. My dad is a programmer and I want to follow in his footsteps," said Lynette Larsen ('23).
Lewis and Clark Carrer Center is also great to help students kick start their careers through getting various career experiences in a different environment besides Holt high school. But with all these benefits, there are definitely some downsides to the program. It is a competitive program and difficult to get into as you are against students from multiple different schools throughout the St. Charles school district. There are also some downsides to not being at Holt for the whole day. You won't get to hang out with your friends as much and it is more difficult to get help from teachers with the lack of Tribe Time.
"I can't take so many fun electives and I spend a lot of time outside of school studying," Reed said.
"(There is) no power lunch. A lot of clubs are during lunch now and I can't participate," Larsen said.
Now that you know more about Lewis and Clark Carrer Center, do you think you will sign up? The deadline for the priority registry is Dec. 13. Make sure to keep good grades and be a diligent student so you have the highest chance of getting in. For more information check the links below.