Emméne moi a Paris – A look into Holt's French club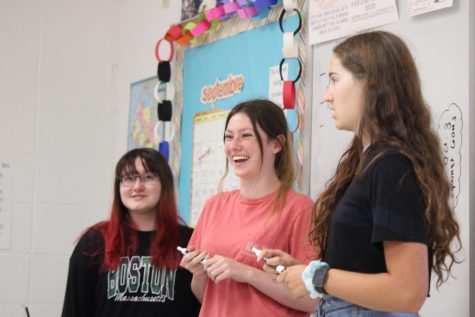 Let's take a flight over to Paris, France! While it is 4000+ miles away from Wentzville, we can learn just as much about it through Holt's very own French club!
Holt's French has been active for around many years and mainly focuses on learning about and enjoying French culture. Students may join the club at the beginning of a school year, and can spend the rest of the year experiencing and exploring the language and culture.
Meetings are often led by Madam Barbour or the French officers: President: Kassidy Henry ('23), Vice President: Emma McCarty ('23), Secretary: Ava Le ('23) and Treasurer: Tysheah Gooden ('23).
"We meet once or twice a month and we do some French related activity or we share French food. Overall we just have a lot of fun," Henry said.
The French club is also a very beneficial experience, not only for those trying to learn the language, but for those wanting to step outside their boundaries and experience a new culture.
"It allows more in depth detail with French if you're in a French class. But, it also lets you explore (cultures) if you're in Spanish or German," Gooden said.
"You get to learn about different cultures and learn about different foods then the ones we have here. I feel like we're kind of stuck in our own little bubble so a French club is a good way to venture out." Le said.
But not only is it a new and beneficial experience for students, it is also a fun and enjoyable experience for those involved.
"(My favorite thing about the French club is) the people and the enthusiasm about the French club. Even if they all don't take French classes," Gooden said.

photo by Kaylei Smith
pictured (left to right) Kylie Finn ('23), Kassidy Henry ('23), Emma McCarty ('23)