On September 30, Holt's girls' tennis team made it to districts, placing second as a team overall. While all members placed high, placing 3rd or above, some of the most notable accomplishments are team members and twins Amber Hutcherson ('24) and Lauren Hutcherson ('24) making it to doubles and Jennifer Nelson ('26) making it to singles for the state championships, all succeeding in an incredible season and making the three members bound for MSHSAA (Missouri State High School Activities Association) State Championships.
"It was really exciting because it's our last season and I was just excited to go with Lauren and play at state," Amber Hutcherson said. "I was just really happy because it meant that our season was longer and I would get to make more memories playing the sport that I like to play. My favorite memory of tennis is probably all of the friends I've made. I feel like I've made a lot of valuable friendships with tennis and people who I'll talk to after this season is over."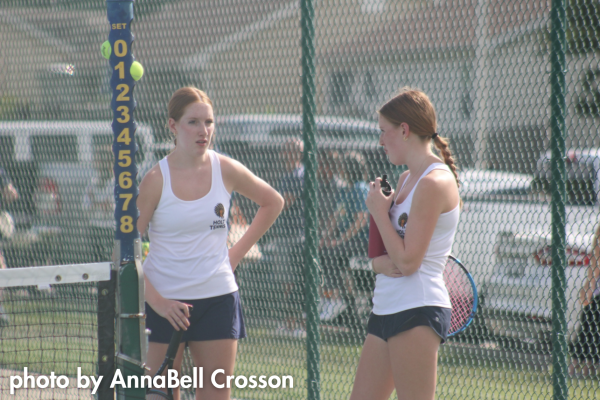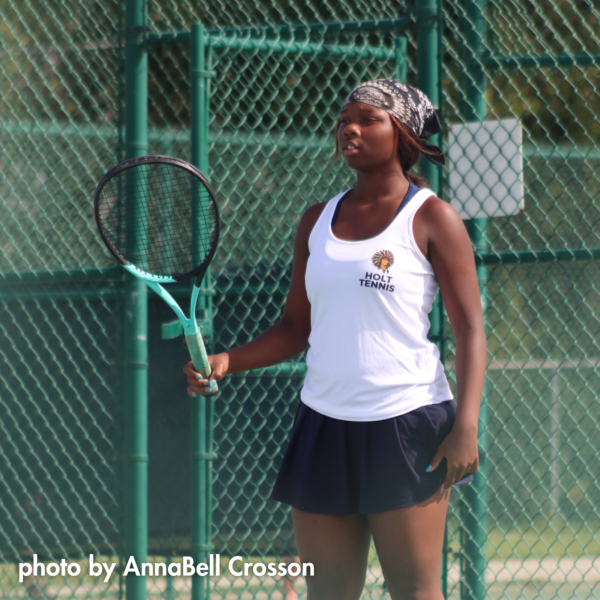 "I was really excited. I called my parents to talk to them. We were just really happy because we didn't expect to go to state. We played in GACs last year, not districts, so the farthest we've gotten is just medaling (silver) in GACs," Lauren Hutcherson said.
"I was very excited. I was very proud that I accomplished that goal that I was working for all season and it feels great to know that I finally got there," Nelson said. "In singles, it's a lot harder on you mentally because you're out there by yourself (and) you don't have anybody else … Whether you win or lose is all dependent on you. You don't have anyone else that you can shoulder the blame … you don't have anybody helping you out. It's just you and yourself out there. It was a very emotional moment. It was kind of a relief, there was a lot of stress going on and I was really happy when I accomplished that goal. I lost to two people who medaled, but I thought I did good and it was definitely a great learning experience." 
Congratulations to all of Holt's girls' tennis team members on finishing an outstanding season!
GAC (Great American Conference) SCORES
Elise Bodine ('24) and Riley Casper ('24) – Doubles 1: 3rd Place
Lauren Hutcherson and Amber Hutcherson – Doubles 2: 3rd Place
Jennifer Nelson and Audrey Talley ('25) – Doubles 3: 3rd Place
Alexis Edstrom ('27) and Alayna Seabaugh ('25) – Doubles 4: 2nd Place
Jennifer Nelson – Singles 2: 2nd Place
Lauren Hutcherson – Singles 4: 2nd Place
Elise Bodine – Singles 5: 1st Place
Audrey Talley – Singles 6: 2nd Place
AnnaBell Crosson ('24) – Singles 7: 1st Place
Celine Edstrom ('25) – Singles 8: 1st Place