Depeche Mode, a pioneer of the beginning of the gothic rock genre. A staple of New-Wave, and a band absolutely adored by moms everywhere.  Including my own. I grew up on Depeche Mode, they were one of the most formative bands of my childhood, and still an all time favorite of mine. 
On October 18th, my mom and I drove down to Nashville Tennessee to see Depeche Mode. We went to the Bridgestone Arena downtown the following day. We made our way to our seats and watched the opening band, DIIV, perform. They were extremely good, with a sort of similar, more rock oriented sound as opposed to depeche mode' synth-like new wave sounds.
After waiting for them to wrap up setting up their set, Depeche Mode came out swinging. Opening with "My Cosmos Is Mine", from their newest album, "Memento Mori".
They played a really good mix of their new and old songs/albums. New songs including "Wagging Tongue", "Ghosts Again", and "My Favorite Stranger".
    They also played older tracks like "Everything Counts", "Stripped", "Precious", "In Your Room", and of course closing with "Enjoy the Silence". 
Their encore songs being "Never Let Me Down Again", "Just Can't Get Enough", "Waiting for the Night", and last but CERTAINLY not least, "Personal Jesus."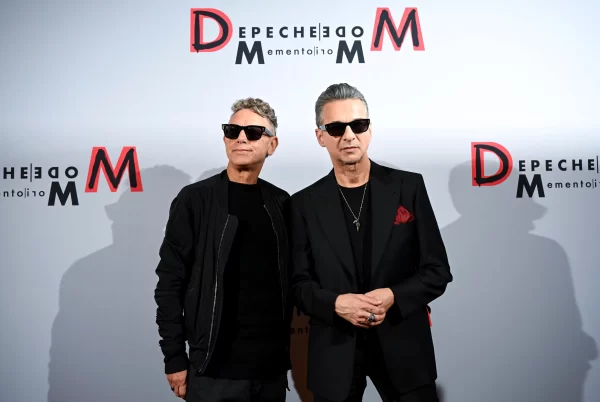 Dave Gahan and Martin Gore's voices stayed exactly the same, sounding hypnotizingly alike to the record to where it's almost impossible to tell any difference.  During the concert, they dedicated "The World in my Eyes" to their late keyboardist Andrew Fletcher, an absolutely heartwarming and bittersweet performance by Gahan and Gore. 
Overall, I would recommend seeing Depeche Mode for anyone who is a fan of them or just a fan of new-wave as a whole. It's a super fun time and the fans are all super friendly and nice as well. I would go see them again in a heartbeat if I had the chance, and the way they sound exactly like they did in the 80s is incredible and not something you see with a lot of bands or artists when a lot of time and age has passed them by. 
But Gore and Gahan seemingly refuse to let their voices age and always deliver a showstopping performance to their adoring audience.