Litfest 2017
Hang on for a minute...we're trying to find some more stories you might like.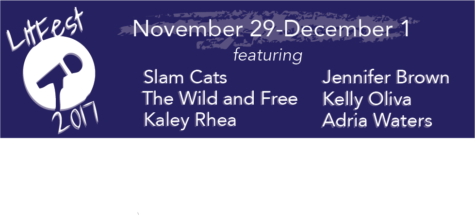 Graphic by Anna Ramsey
The time has finally rolled around for our second annual Literary Festival, sponsored by Mrs. George and her Contemporary Literature class. The festival is taking place on November 29th through December 1st and is giving a stage to all mediums of literature including everything from poetry to photography. Many well known authors will be speaking during the event such as Jennifer Brown, author of Hate List.
Student writers are encouraged to submit their own materials for the student showcases taking place during 6th hour on Wednesday and 4th hour on Thursday. Aspiring writers can find the submission guidelines on the festival's Google Classroom with the code 5jjqk8.
This year, the festival is three days. English classes will take rotations to hear authors during respective classes. Students will have the chance to ask questions at the end of each presentation and will also have the chance to get autographs and books/magazines signed by the authors.
The schedule for Litfest is as follows.
Wednesday 11/29
2nd hour- Emily Hall with Sarah Jude and Emily Bane Murphy
4th hour- Hazelwood Slam Cat's Slam Poetry Team
5th hour- Vicki Berger Erwin
6th hour- Student/Faculty Showcase
C Lunch
7th hour- Coach John Parker
8th hour- Kelly Oliva
Thursday 11/30
1st hour- Sarah Angleton
2nd hour- David P. Jacobs
4th hour- Student/Faculty Showcase
5th hour- Adria Waters
6th hour- Carolyn Waters
C Lunch
7th hour- The Wild and Free
8th hour- Jennifer Brown
Friday 12/1
1st hour- Travis Mossotti
2nd hour- Kaley Rhea
4th hour- Sean Frazier
5th hour- Bill Roemer
6th hour- Amy Engle
C Lunch
7th hour- Lindy Drew
8th hour- Lindy Drew
All in all, 2017's Litfest looks to be a certain success. The Contemporary Literature classes have been working tirelessly to make the event run as graceful and smooth as possible. We hope to see you there!
About the Contributors
Maggie Poronto, Writer
I am the girl you hear yelling in the halls about anything I am feeling particularly indignant or discontent about. Listen closely, and you will hear me...