Meet the Author: Melissa Scholes Young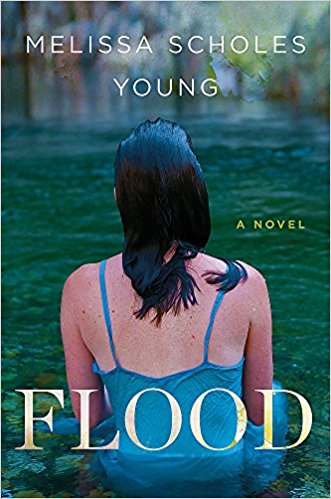 Melissa Scholes Young visited Holt High School's library to talk about her book "Flood" and her journey as a writer. She taught college writing, creative writing, advanced fiction and poetry at American University in Washington DC. She also has a 16-year-old daughter.
Young comes from a farm family and grew up in Hannibal. She has written for "The Washington Post", "The Atlantic", and "Poets and Writers". She was a first-generation college student, now a first generation faculty, and writes a lot about that. She is an editor as well and chose 25 out of 2,500 women authors' books in D.C. to include in her publications to promote these authors. As an editor she helps with the flow of the story, not the spelling or grammar.
Her book "Flood" is described as "the novel Mark Twain would have written if Becky Thatcher had gone home for her high school reunion and found Tom Sawyer." It took 28 full drafts to finish her book "Flood" and about 100 cut words to get it ready. Flood took five years to complete the publishing process.
Young explains how being a writer is not just about writing. She does lots and lots of reading and even has her own book club Clayton Missouri. As a writer you do not always have control over what the cover of your book is. Young explains that she went through two covers with her publishers before settling on the cover that the book has now, which is a picture of the final scene in the book, but since the book was sold to the publishing company they could have done what they wanted.
To write a book, she starts by writing the ending. She wrote in Tom and Becky in her book and wrote 150 pages from Tom's point of view, but it ended up not sounding like a boy and was more of the main character. Though people in her life think they are characters in her story, she does not put anyone she knows has characters.
Fun facts about Melissa Scholes Young, she likes the free parks in DC, she walks on the beach and takes a sharpie with her on walks and writes down plot points she cannot understand on her hand, and has a Bachelor's degree in History which she chose because they read a lot and. She won her first writing contest in third grade on a story about her Mom and Dad. "Her dad chose her mom and he's the best so she's the best" she had written.  
She loves "Harry Potter" and thinks J.K. Rowling is a genius. She is also fascinated with bed bugs and calls them a "social equalizer". She once spent the weekend at an apocalypse prepper camp because she wanted to understand and be empathetic.
Check out Melissa Scholes Young's book "Flood" and keep up with her latest projects on her website, http://www.melissascholesyoung.com.

About the Contributor
Megan Thompson, Editor-in-Chief
**Class of 2020**Hello, my name is Megan. This is my third year writing for Holt Tribe and first year as Editor-in-Chief. I have been a Photography Editor...