Running Towards Victory
Hang on for a minute...we're trying to find some more stories you might like.
One of the sports that has seen a lot of team growth in the past year is Holt's cross country team. Last Wednesday, August 29, the team traveled out to Wright City to compete in the annual Fleet Feet Cross Country Classic.
This race isn't their typical race. It's shorter than usual and instead of running 3.1 miles, they run two miles at the Battlegrounds. Holt raced against Timberland, Hannibal, St Charles, Troy, St Louis Christian, Orchard Farm, Living World Christian, Warrenton, and Wright City.
Holt's teams killed the competition. Girls Varsity came in first place with two medalists. Boys varsity came in second place with one medalist.
The two medalists from the girls varsity team were Gracyn Pietrinsinski ('20) and Makenna Seghers ('21). Gracyn medaled first overall with a time of 12:07. Makenna finished in fifth place with a time of 12:42.
There was one boys varsity medalist. This was Aaron Eller ('21). He came in eighth place with a time of 10:43.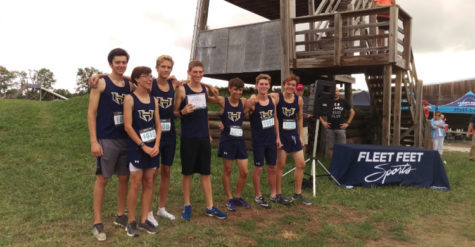 The boys JV team killed it as well. They came out as the number one team and had five finishers in the top ten. These were David Tauser ('20) (second place), Jace Owens ('20)(fourth place), Dylan Landes ('20) (sixth place), Baylor Reinker ('21) (ninth place), and Boston Dudley ('21) (tenth place).
The teams also competed in the Jim Marshall Invitational in Jefferson City Missouri. During this meet, the teams both had tougher competition. However, both teams made fourth place as a team and the medalists for varsity were: Gracyn Pietrusinski, Makenna Seghers, Aaron Eller, and Brandon Reinhard.
Their next meet occurs this saturday, and it is at Forest Park. The team has a long and hard season ahead of them, it will be interesting to see how far they will go.
About the Writer
Mic Beedy, Sports Editor
Well hi! I'm Mic Beedy and I'm a Junior at Holt. I'm a huge Portland Thorns and USWNT fan. I play soccer here at Holt and for club. I also run cross country...