Homecoming Game Woes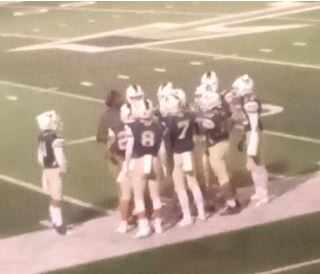 Hang on for a minute...we're trying to find some more stories you might like.
With Holt's season coming to a close, the desired love to keep playing hard and fighting through tough plays continues. "The whole student section came out to support our team dancers, cheerleaders and band. The team itself push through a tough game and worked hard the whole time despite the ending score," said Annaliese Allison. With an ecstatic student section, the Holt Indians football team came out with an exciting beginning.
The Beginning of the game was very slow and dry out and buy time the game progressed the score was getting worse and worse for the Indians.  As the Troy Spartans became almost invisible to our defense, the score just kept getting higher. As the game was very hardfought, it became clear the Indians would not take the dub. "The Holt versus Troy game was not only a very competitive game but a widely considerable tough game for our boys and one of the toughest of the season so far," said Annaliese Allison.
During halftime, the show was also very elegant along with being very long. Many students were excited to see the cheer squad and the dance teams show off their hard work. The halftime show was also very stressful as many wanted both performances to do good. All in all the halftime show was a good time for everyone as we headed into the 3rd quarter.
When the 3rd quarter finally came to start, the Indians morale and the students sections strength became stronger mentally and physically. Even with many opposite team touchdowns the Indians remained to stay in the game and tried their hardest. Within the 3rd quarter into the 4th, everyone knew without an outrageous comeback the Indians were doomed to lose. But with great gratitude and sportsmanship the Indians worked their hardest and took a hard loss.  
At the end of the game however, many were still excited about the end result as Troy our rival has gotten better. Many believe the Indians if they played their cards right would have won the game. But Troy being our rival is just one game out of many and for some that is another chance to take the W as a school and for everyone who is an Indian.
To sum up, the game Was very passionate and hard spots throughout all four quarters including the halftime show. The game was full of stressful fearful and mentally tough scenes in which mental mistakes became errors and those errors are what Troy capitalized on. But at the end of the day the Indians grew stronger mentally physically and as a team they grew more whole and their teamwork and Leadership was magnified. With such an active cheer squad dance team and student section, the Holt High student body will now be more spiritual than ever for any home games that come our way. Look out Troy!