Words Hurt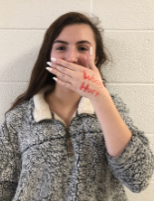 Have you ever heard the saying "Sticks and stones may break your bones, but words can never hurt you"? This was something you might have heard a lot in your childhood. Well, words do hurt.
According to Campus Safety, one out of five students are bullied in highschool.  "It's just a part of life; it will get better," said Paige Ziesmer ('22).
Students are hurting everyday because of what people are saying about them. As if the stress of school is not enough, people have to add to it by saying hurtful things. "The drama this year has been incredibly high," said Mackenzie Blankley(22).
The suicide rate in the past couple of years is incredibly high. Suicide takes the lives of over 44,695 Americans every year. It is the second leading cause of death for people ages 15 through 25.
Depression and anxiety are very prominent issues in our world today. Anyone around you could be suffering from these diseases. Some of them are too scared to reach out for help. These things can change peoples lives for the worst.
People with depression do not see that things just get better; they see the worst possible outcome and convince themselves that it is the only outcome. You do not know what they are going through and to what extreme.
Some people suffering from these things may turn to substance abuse or even hurting themselves. Saying the wrong things even just "as a joke" can really hurt someone and push them to the edge.
Saying or typing hurtful words can really alter someone's life. Even people who do not suffer from these illnesses still are affected by hateful words.
The words hurt movement is an organization that stands up to bullying. This program gives people that are suffering a voice. It helps them realize that they are not alone.
High school can be very hard on students and with the stress of friendships and relationships it can be overbearing. This movement allows you to show people that you are by their side. It can help people know that they have a friend throughout the hard times that they are going through.
People should not have to go through highschool thinking that they are alone. Students learning environment should be a positive outlet in their childhood where they can get the education they need to succeed.
Being a part of this movement is a very easy thing to do for your peers. You can be a part of a change that helps people build themselves up.

About the Contributor
Lillian Bookout, Photo Editer
I am a sophomore. My hobbies include writing, photography, and dance.