Library Events- What's to Come This Year?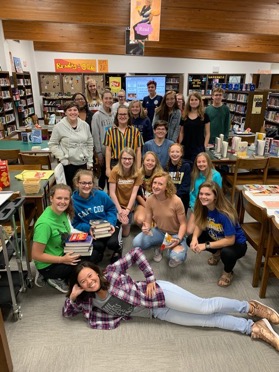 Not everyone enjoys reading or attending school events, but here, there's a library event for everyone! From Reading Club, which meets once a month to Tech Week, where students get to experience vintage technology, there's something to do, no matter what you're interested in. Here's what's coming up this year:
Reading Club is held during lunch on the last Thursday of every month. Come on down to get first pick on new books, eat snacks, and talk about the month's book theme! Librarians recommend this for new students, but all are welcomed of course. "I'm excited for the reading club, because it seems peaceful and they give you snacks!" Lila Sverdup ('23) said. 
Teen Read Week is a week-long celebration filled with reading competitions for students to participate in. It had daily themes, such as dressing up as your favorite character. This will happen sometime in October.
During Tech Week, students will be able to test out vintage technology, such as typewriters, in the library. They will also have VHS Disney movies playing all week. The Librarians are most excited about this event, which will happen sometime in March.
Battle of the Books is probably the biggest event in the library. All students who want to participate must read the Gateway nominees and compete in a 100 question Kahoot. "I'm most excited for Battle of the Books, it's been a tradition of mine for the past three years," Andrew Bufalo ('23) said. Last year, about 100 students came to watch the event.
You can also go down to the library for Academic Zone. They meet from 2:20 to 3:25, Monday through Thursday. They have teachers and tutors down there to help with any homework questions.
The library promotes its events in a large variety of ways. They hang flyers around the school and put up advertisements on the school's TVs showing what events are coming up. They also have teachers promote the events. You can also check the libraries social media (@HoltLibrary on Twitter and @holtlibrary on Instagram) for more information.
Leave a Comment