MLS to STL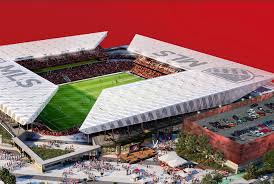 St. Louis is finally getting a professional soccer team. After talk about a team for the past few years, the ownership group reached an agreement with Don Garber and the MLS to name St. Louis the 28th team in the league.
The club will begin play in 2022 with a brand new stadium in the Downtown West District of St. Louis. This is a huge accomplishment for the soccer fans of St. Louis who are extremely excited about the new team. "I have been waiting for this to happen for years now. I have followed MLS my entire life and I can't wait to watch my hometown team play," said Ethan Kuhn ('21).
Most expansion teams in the MLS are not very successful at first, but hopefully the amount of youth talent in the St. Louis area could help the team in the future. This expansion will also be good for the economy once the team begins play. This is because the MLS is a growing business and is gaining popularity every day.
According to Forbes. "The MLS currently gets an average of 80 million dollars every year from its broadcast partners." The recent expansion teams such as Minnesota FC and Atlanta United have already made a huge profit since beginning two years ago. Another benefit of having soccer in STL is the fan support. Every time St. Louis has hosted men's soccer friendlies for european teams, the stadiums have been sold out. The excitement for soccer in St. Louis is immense and all they need now is a name.

About the Contributor
Mitch Terbrock, Writer
My name is Mitch Terbrock and this is my first year as a writer for Holt. I play soccer and I am also in DECA. I am very excited to write articles for...