World Series Champions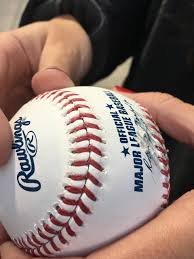 The World Series has finally come to an end as the Houston Astros took the Washington Nationals to game seven, making them earn their first World Series as a franchise and bringing the commissioner's trophy back to Washington for the first time since 1924. The then Washington Senators won only one World Series in Washington before moving to Minnesota in 1961. It has been a very, very long road for the city of Washington D.C to be able to host the trophy again.
The Nationals earned this Championship by going through one of the hardest routes to make it to the World Series. After beating the Brewers in the Wild Card game, they had to face the Dodgers, who was the number one team in baseball almost the entire season. After beating them in five games, they took on a hot Cardinals team and completely controlled the series sweeping them in four games. Only after taking on the debate number two team in baseball after a whole week off, after winning the first two games, the Astros fired back by winning the next three in a row, putting the Nationals a game away from elimination. The Nationals pulled it together and won the next two games to bring home their first championship in almost a century.
After Washington lost the original Senators to Minnesota, Washington was awarded an expansion team. This new Senators team was absolutely terrible, losing an average of 90 games per year and changing ownership 7 times with 1969 being their only winning season. Shortly after in 1971, it was announced that this Senators team would be moving to Texas and later becoming the now Texas Rangers. This marked the end of Major League Baseball in the nation's capital for 33 years.
But in 2004, the Montreal Expos relocated to Washington to become the Nationals following the 2004 season. Three seasons after baseball returned to D.C, the capital city built a state of the art stadium to host their new team  and with making great draft picks and free agent moves, the Nationals are now 4-time division champions and now after 95 years of waiting the World Series has finally returned to most interesting baseball city in baseball.

About the Contributor

Ethan Kuhn, Writer
My name is Ethan Kuhn and this is my first year as a editor for Holt Tribe. I am a junior and have past experience in journalism, I look to make a major...