Meet Theater Teacher Mr. Andrew Milhous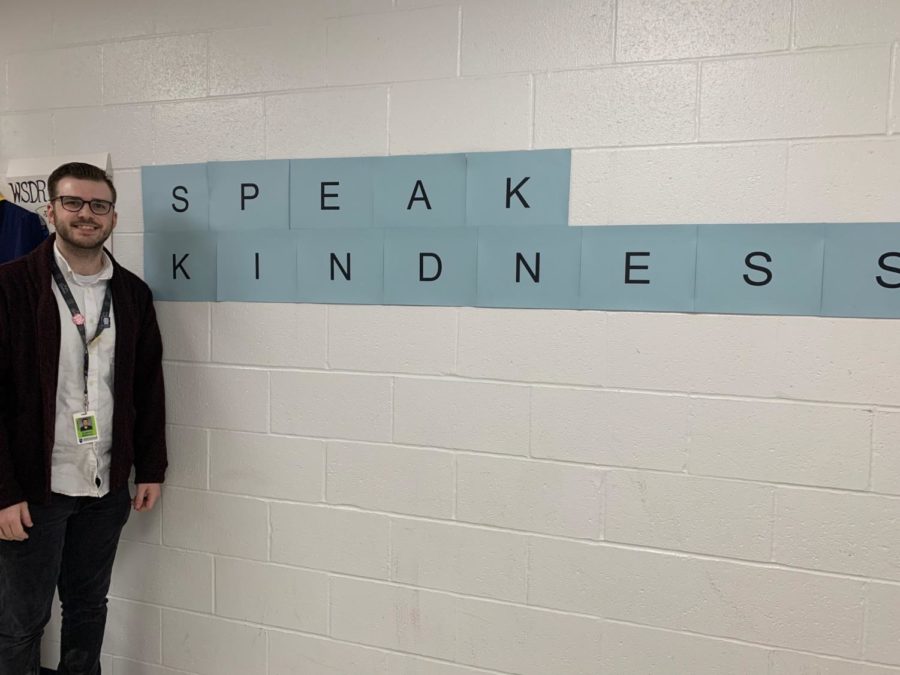 Most  have seen a musical/play or two. But, how many can say they have acted in or participated in over 30? Mr. Andrew Milhous can. Milhous is going on his second year of teaching theatre. In his junior year, during the summer, he even directed a play, which showed him he wanted to become some sort of teacher. He then realized he could put his two passions together, teaching and theatre. 
Milhous has been in musicals or plays in several different places. He has five favorite musicals or plays that he acted or participated in besides directing. "You Can't Take It With You, Drowsy Chaperone (Truman), Footloose (Wentzville Christian), Seussical (Truman) and Woman In Black" (Milhous), Milhous said. 
Milhous' favorite teaching moment occurred last year. During the first day of production for Beauty and The Beast. Then he got to sit back and watch the cast put their hard work together. "It fulfilled my dreams of putting together a musical", Milhous said. 
Milhous' teaching style is very upbeat and interactive while using a variety of theatrical elements. Starting from the beginning of Theatre Arts I, students learn different improv games. One of the main games are Big Game. During Big Game, one person is inside the middle of the circle. The middle circle player can then point at players making up the circle asking for them to say a bird, beast, or fish. As they are pointing at the player, the player has to the count of 10 to say an animal in the asked category. If the player fails to do so the player switches spots and is now in the middle of the circle. 
Throughout the classes, students learn all things theatre. Weather that be the history of theatre, how to prepare for an audition, and they even will get a chance to write and act in their own student run musical in class. 
Theatre is arguably one of the most beneficial programs a student can participate in. Theatre brings together students with different interests and social groups into a fun and engaging environment. It also helps students become more open to others in an accepting and non judging environment. Inside the theatre room (located on the lower floor), you will find two words on the wall in large uppercase lettering, SPEAK KINDNESS. This truly defines the way Mr. Andrew Milhous runs his theatre classes. Any rude behavior or words are completely unacceptable in the theatre program. 
Milhous embraces the talent of each and every individual student. By doing so, it not only boosts student confidence but self-esteem as well. Every class period, Milhous opens with asking students different questions about how their day is going, future plans, or other various questions and gives every student a chance to share their feedback. This creates a well-running student-teacher bond as well as sparks conversation between students with fellow students. 
Milhous is a well-rounded and interactive teacher. When taking a theatre class under Milhous you can expect a fun and free of judgement class period. While engaging in entertaining and unique theatre games and other theatre elements. 

About the Contributor
Anabelle Morris, Copy Editor
Hello, my name is Anabelle Morris. I am a junior here at Holt. I enjoy playing paintball and snuggling with my puppy. Also, I like to hang out with my...