Holt Clutches the Wonder Woman Title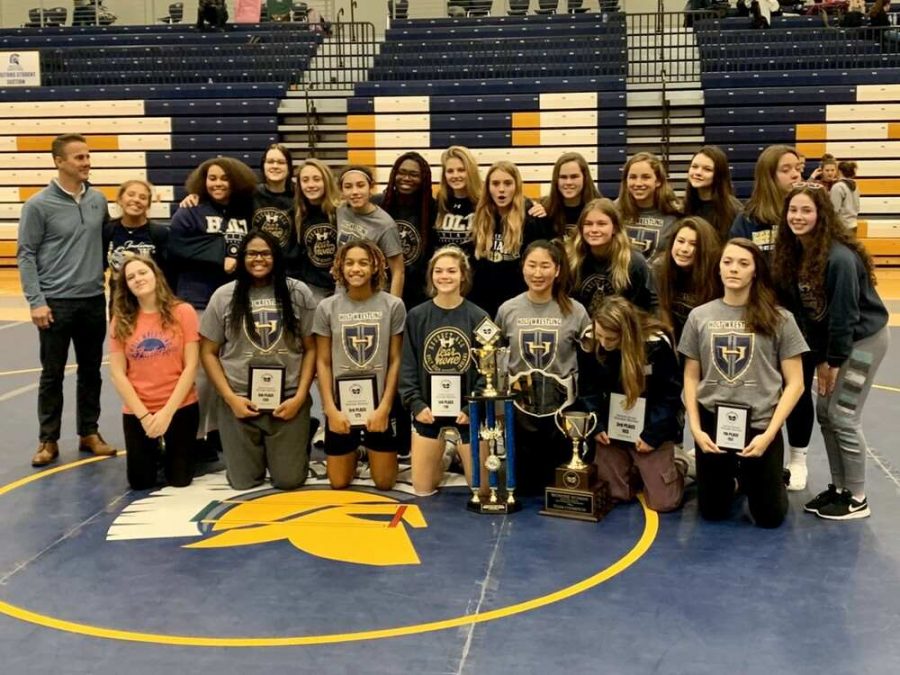 While most students were at home in their comfortable beds for break, Holt's girls wrestling team was turning up the heat in Columbia, Missouri for their annual Wonder Woman wrestling tournament. 
From January 4-5, the team spent a grueling two days in competition to climb to the top. Bringing home the title of  the Wonder Woman Team, Holt crushed their competition with a total of 162 points and putting themselves in first place.
The amount of medals brought home by the team was beyond impressive and filled the team and school with pride. Coming back from her injury, Esther Han ('22) secured first place for her weight bracket. 
Han's impressive career has not been halted by her first, and only, loss this season at the Fort Zumwalt West meet. The loss pushed her to her inevitable success at the Wonder Woman meet in Columbia. Han recollects her memories from the weekend, and while she secured an impressive win she puts emphasis on her teammates.
"My favorite memory when I went to finals and there was the spotlight with my whole team cheering me on. Also, Mariah Slaughter ('23) and Reece Compton ('22) giving me sweet tea was really sweet too," said Han.
However, Han was not the only one on Holt's team to have a successful weekend. Reece Compton and Maria Slaughter added to their team's success by earning third place while Megan Stutsman ('20) and Sydni Scott ('21) won fifth and sixth place, respectively. 
Even though this is only Holt's second year with the wrestling program for women, they are already becoming a powerhouse in the sport. The team is not ready to stop with this win either and have high expectations for the rest of the season. 
"I expect good results and a lot of fun. I'm excited for the rest of the season," said Han. 
If students can do anything to benefit their high school experience at Holt, it would be to go out and support the girls wrestling program and their continued success. Keep an eye out for the rest of their season as they continue to bring a good name to the school. 
About the Contributors
Mic Beedy, Sports Editor
Well hi! I'm Mic Beedy and I'm a Junior at Holt. I'm a huge Portland Thorns and USWNT fan. I play soccer here at Holt and for club. I also run cross country...