Yearbook Spirit Week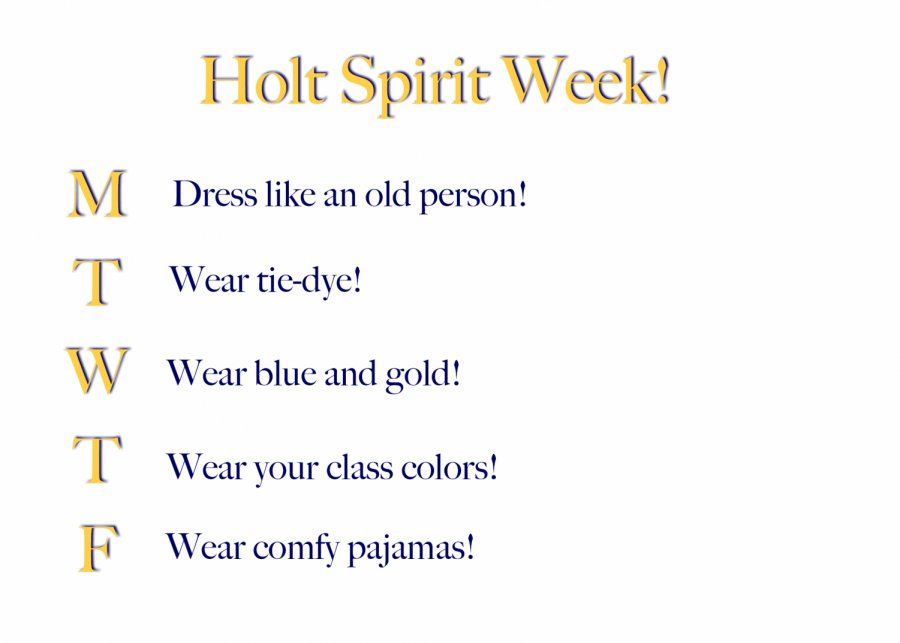 Yearbook Spirit Week!
Memory Monday – Dress like an old person. Make your memories last – buy a yearbook!
Tie-Dye Tuesday – Wear tie-dye. Don't get tied up with your life and miss the yearbook deadline!
Bold & Gold Wednesday – Wear blue and gold. The yearbook theme this year is "BE BOLD" – Don't miss out!
Class Color Thursday – Wear your class colors. Every grade has a role in the year and every grade is in the yearbook, so buy yours today! Freshmen – Blue, Sophomores – Red, Juniors – Purple, Seniors – Pink
You Snooze, You Lose Friday – Wear comfy pajamas. Dress cozy, but no slippers and don't slip up and miss the deadline – it's today!

About the Contributor
Cale Barnes, Editor-in-Chief
This is my second year as a writer for Holt, I hope to get more attention on Holt's publication and leave a good mark on the school. I'm involved in several...