Kobe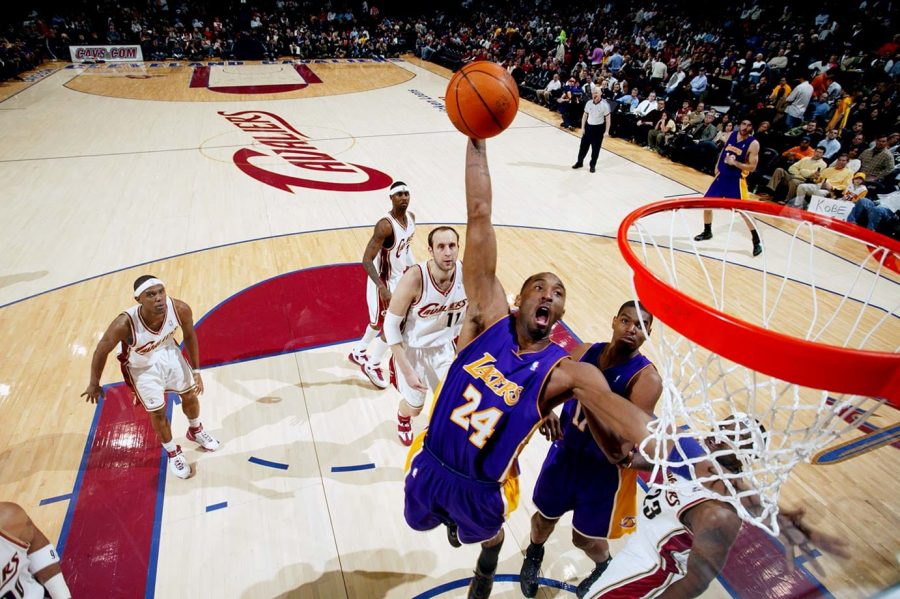 On the morning of January 26th in Calabasas, California, the sports world lost one of its brightest stars in recent history. The impact that Kobe Bryant had on not only basketball, but all sports was shown Sunday, as the entire sports world mourned his death. Bryant was expected to be inducted into the Basketball Hall of Fame later this year, 3 years after walking away from the game he played for 20 seasons.
During Kobe's career in the NBA, which started in 1996 when he was 18 years old, after entering the draft after high school instead of attending college. Kobe Bryant became the youngest player to play in an NBA game. Even with the early comparisons to Michael Jordan, Kobe always seemed to produce for the city that came to love him, and he always returned that love to the city of Los Angeles, giving them five championships and becoming the Lakers' career leader in games, minutes, points, field goals made and attempted, 3-pointers made and attempted, and win shares. Kobe bought an age of dominance to L.A, with no team winning three straight championships since Kobe and Shaq did in 2000-2002.
Even after his retirement, Kobe continued to make a major impact on the sport and outside of it. Bryant continued to give advice to young and old players around the league who looked up to him and idolized everything he had done, including training 2018 MVP and frontrunner for 2019 MVP Giannis Antetokounmpo in the summer going into the 2018 season where Kobe challenged Giannis to bring home the award. Outside of basketball, Kobe won an Oscar Award for his short film "Dear Basketball" and also wrote multiple children's books, but most importantly, he got to spend time with his wife and daughters and be the father that he'd always wanted to, which he wasn't able to do during his playing days.
One of his four daughters, Gianna, was also killed in the helicopter accident, which also took several other lives. Gianna, who was 13, already showed early signs of the "Mamba Mentality" that her father had displayed during his career, becoming something athletes across the world strive to have. Earning the nickname "Mambacita" by her dad, who was the original Mamba, Gianna already had her eyes set on carrying on the Bryant legacy, with plans on attending UConn and then on to the WNBA.
Kobe and Gianna would regularly be seen attending basketball games where Kobe would be on the sidelines breaking down plays as Gigi kept her eyes glued to the game soaking it all in, having the same amount of drive and urge to learn and outwork anyone as her dad did. At such a young age, Gianna had really started to transform into a special player, going through 5-7 workouts per week with her dad and "watching film as much as I can," she had said in an interview.
There's no telling what impact the Mambacita would have had on not only the game of basketball, but also the rest of the world. With the impact of this loss still being felt all the way from Uconn, who displayed a jersey on the team bench with the number two on it, which was Gigi's number on her dad's team, to the WNBA where Los Angeles Sparks forward Nneka Ogwumike, the 2016 MVP and WNBA champion, said Gigi was "symbolic of his legacy, and also the future of women's basketball."
Along with Kobe and Gianna, seven others where on the helicopter at the time of the crash. The Altobelli family, which consisted of Alyssa, who was Gianna's teammate on their mamba academy team and had a bright future on the court, her mom Keri, and her father John, who was a respected JUCO baseball coach, the Altobelli family is survived by another daughter and son.
Another teammate of Gianna and Alyssa was also killed in this tragedy along with her mom, Sarah and Payton Chester who lived in Orange County are survived by Sarah's twin sons, who said Payton loved playing for Kobe and thought he was an amazing coach.
Along with Ara Zobayan, who was the pilot of this helicopter and has been said to be Kobe's personal pilot with him being the only one Bryant would let fly him and anyone else around. Christina Mauser, the 38-year-old former basketball coach who lead the eighth grade girls basketball team to its first championship in 2017, where Gianna was one of two sixth-graders playing on the team. Her husband Matt Mauser, who also coached the team and has more recently coached at the Mamba sports academy, now has to raise three kids by himself.
In addition to UConn showing their respect to Gianna through having a jersey in her honor on the bench, many teams around the NBA used all types of ways to show their respect to Kobe and the impact he had on the game. Atlanta Hawks point guard Trae Young wore the number 8 in respect to Kobe's first 10 years in the league where he wore the number, winning three championships with it. The Timberwolves set the ball on the freethrow line after tip-off, where Kobe passed Michael Jordan for all-time points. Plus other teams taking 24-second and 8-second violations for the two numbers Kobe wore throughout his career. The Dallas Mavericks and Miami Heat had 24-second moments of silence to honor him as well, in addition to this, Mavericks owner Mark Cuban announced that no player will wear the number 24 ever again for them, with a movement for the number to be retired league wide. Along with a movement beginning for Kobe's number to be retired, a movement has also started that would change the NBA logo from NBA great Jerry West to Kobe. Jerry West is actually the one who made the trade to bring Kobe to L.A after being drafted by the Charlotte Hornets.
This tragedy has already had such an impact on people from all around the world. It truly is heartbreaking in every way possible, with far to many lives being lost way to early, especially the three young girls whose unlimited potential will forever leave unanswered questions about the impact either one of them could of had on the game of basketball or possibly even bigger than that. My heart goes out to the Mauser, Payton, Altobelli, Zobayan, and Bryant family, whose lives changed forever on this day and will have to continue throughout their lives without the ones they love the most.

About the Contributor

Ethan Kuhn, Writer
My name is Ethan Kuhn and this is my first year as a editor for Holt Tribe. I am a junior and have past experience in journalism, I look to make a major...