FOX News Visitor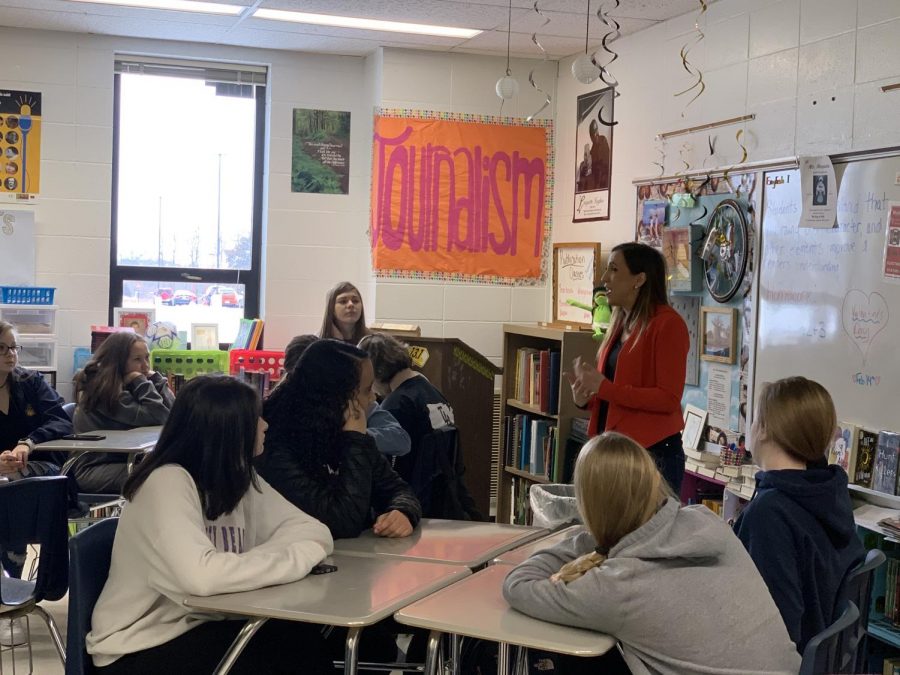 Excitement and joy filled the room of Ms. Swanson's classroom as a visitor from Fox 2 News came.
Michelle Madaras, who has been working as a reporter and journalist for quite some time, was contacted and she had the opportunity to come guest speak for the class on her life as a journalist. Getting a journalist to come to the school and talk was exciting.
Michelle started her career at WCIA in Champaign, Illinois. She started as an intern there in 2012, but was soon after hired to produce their morning show while she finished her journalism degree at the University of Illinois. Before she moved to St. Louis, Madaras worked at WSIL News 3 in southern Illinois where she anchored the morning show, she reported and produced. Until the year of 2017, when she moved on to FOX 2, where she can be recognized by many in the St. Louis area.
When she spoke to the class about how life is as a journalist, questions were asked very quickly. Madaras was even asked by students on good tips on how to be successful throughout high school and how to prepare for college one day.
"I was honored that she would take time out her busy day to come here, and she seemed very excited to talk to our class," Ms. Swanson said.
The students were honored as well.
"I enjoyed her coming to our class because it was interesting to see an actual reporter come to our class and to see what she does on a regular basis. It was also interesting to listen to her point of view and situations that happen in the world," Ashtyn Heuer ('22) said.
Many of the students focused on all of the advice that Madaras was giving and were glad that they learned something new that day.
"I enjoyed her advice because she told us how being a journalist was. She didn't sugarcoat anything," Hailey Thomeczek ('23) said.
Michelle Madaras always seems very busy in her news reporting. In her spare time, she enjoys yoga, golf and playing fetch with her dog. Madaras is also a lifelong figure skater and coaches on her spare time.
Being a journalist and a reporter can be hard work, as most of them are very busy every day with going from place to place and interviewing many people. But, being a journalist can be very interesting and educational as we have some crazy world events that happen every day. 
The journalism class was excited that Michelle Madaras took time out of her busy day to talk with them.

About the Contributor
Ellie Kleffner, Copy Editor
Hello, my name is Ellie Kleffner. I am a freshman this year at Holt and I love it here so much! I enjoy seeing people smile everyday as I walk through...