Fly High, Warrior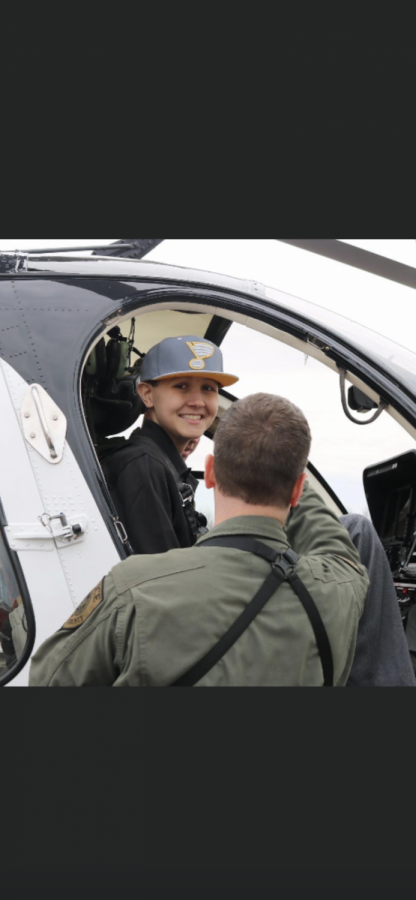 Words could not describe how kind and compassionate Sullivan "Sulley" Menne ('20) was. He was loved and enjoyed by many during his high school years. His friends always enjoyed him being around. His smile always brightened each day no matter what kind of situation he was going through, good or bad. Sulley passed away peacefully early Tuesday morning with both of his parents by his side and everybody lifting their prayers for him. He was a warrior during his last days and still kept a big smile for all of those around him.
Sulley was diagnosed with Acute Lymphoblastic Leukemia, a type of cancer of the blood and bone marrow that affects white blood cells. He was only diagnosed during the summer of his freshman year of high school. Sulley's family had started a Facebook page called 'Sulley's Journey' where his mother would document the days of her son's battle. The page has touched the hearts of many who sent in all of their love and prayers for Sulley while he was going through a strong battle.
In January, an early graduation ceremony was put on for Sulley where many students, parents, former teachers and many others came to watch. His teachers that once had him in their classes spoke at the ceremony about how hard he had worked through high school and how he had never given up. Ms. Bonnie Farmer had been homeschooling Sulley during his battle and had been teaching some powerful life lessons.
"When I first met Sulley I learned his favorite color was red, and he likes St. Louis Cardinals and other sports. He likes hats and has a multitude of them to change often. Sulley told me he liked Science, but was not very good at Math. Sulley was a curious young man. Going from the revolution, to the civil war, and all the way up to the civil rights movements, Sulley asked questions and made connections in a way that always amazed me," Farmer said.
Sulley also had many friends that supported him through high school and his battle.
"Sulley was a truly remarkable kid. He went through one of the toughest things any person could go through and he was so strong through it all. Throughout middle school, I really never knew him. In high school, however, I had a couple classes with him. When I would see Sulley in class, I noticed he was always happy. He was always smiling, no matter the situation. Although I did not know Sulley as well as other people did, I do know that I will always aspire to be as strong and willing as him. Sulley is and always will be a role model to the students of our school," Nolan Briegel ('20) said.
Other students had been greeted by Sulley's kindness before he was diagnosed and will treasure it forever.
"When I was a freshman, I did not really have many friends during my lunch hour, but Sulley and a few other boys invited me to sit with them for all of the first semester. That is where I got to interact with Sulley the most and I learned that he was incredibly entertaining, caring and compassionate. Being able to sit with him for just twenty minutes at lunch always reassured me that I would enjoy at least some part of my day. Though the time I spent with Sulley may have been brief, I am honored to have known such a preserving young man who had nothing but a positive impact on others," David Tauser ('20 ) said.
Sulley's friends still have many memories about what they used to do with him for fun and some of those great times they had.
"Sulley and I have been friends since the seventh grade, it is truly sad to see him go. However, I know that Sulley is in a better place now. One of my favorite memories is when our friend group joined him down at the Enterprise Center to watch the Blues play against the Carolina Hurricanes. Sulley has an infectious smile that none of us could help but join him. The game was fantastic, the Blues ended up winning six to four. Sulley was brought down after the game and was given Pietrangelo's signed stick. The entire ride home, we were all cracking jokes and having a great time," Austin Mack ('20) said.
During his battle with cancer, Sulley was always described as strong and brave during those times.
"Neil de Grasse Tyson has said, "There is no greater education that one that is self-driven." Sulley has not had a traditional education, I felt that quite described him. I have said before, that Sulley is my hero. His amazing smile, his willingness to work on school things even when his body was not wanting to and his overall positive outlook toward his treatment, his family, friends and school go beyond how words can describe him. My hero has wings and his presence in my life and others will forever live on," Farmer said.
Even though times had been rough for Sulley and his family, they still learned that they were not alone and that there were so many individuals that never left their side. For other families going through the same situation like Sulley did, they learned a lot from his story and are doing the same. Sulley's family stated they "really have been appreciating all of the love they have been seeing." 
Even though Sulley is no longer with us, he will still live in our hearts forever and we can learn how to be compassionate just like him. Like the picture shows, Sulley is flying high up in the sky.

About the Contributor
Ellie Kleffner, Copy Editor
Hello, my name is Ellie Kleffner. I am a freshman this year at Holt and I love it here so much! I enjoy seeing people smile everyday as I walk through...