Movie and Show Recommendations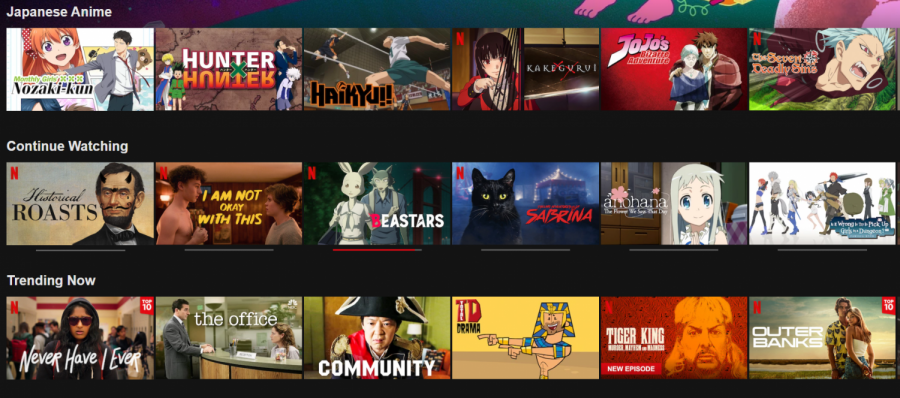 With the current situation we're all in, we could all do with a good film to watch. Quarantine gives us the time we need to just sit down and watch a few episodes of a show, or the entire three seasons of one. Or, maybe we can finally sit down with our family and find a good movie to watch.
There's plenty of streaming services and apps to choose from- Netflix, Hulu, Disney+, HBO, and many others. Apps like Netflix and Hulu have original movies, or shows, that you could easily get hooked on. Or, maybe you want to kick back and enjoy a classic, heart-felt movie on Disney+. 
But what if you don't know what to watch, or maybe you're trying to find a new show to binge watch?
According to students at our school, there are several movie recommendations, and when looking through student recommendations, there were a few repeated titles. Star Wars was a common response, same with the Marvel movies, because there's quite a few of both and they are enjoyable to almost anyone. Disney movies like Aladdin and The Lion King were also suggested, which I can agree, because they're a few Disney Classics that were very nostalgic and had a great storyline to follow along with. 
The Back to the Future movies are also really good movies to watch during quarantine.
"I feel that it is a must watch classic film. It's also really good so 10/10 would watch again," Brandon Truong('21) said. 
However, maybe you don't want to sit down and watch a movie for an hour and a half. What are some good shows to watch?
F.r.i.e.n.d.s, How I Met Your Mother, and The Office are all good shows with many seasons to keep you going. Tiger King was recently released on Netflix, and it's received a lot positive feedback as well for its humor and drama. Someone even suggested Phineas and Ferb, because it's a classic childhood show and it's humorous.
The Midnight Gospell is a more laid back show that you can watch, if you want something to play in the background maybe, or half pay attention to while multitasking.
"It is different, with most of it being like a podcast and the story taking the backseat. But the topics and people are great with eye opening talks and the "story" going in with the talk." Adian Kline('22) said.
So hopefully something caught your eye. I really suggest you go and check out some new shows or movies to watch, if you're ever bored at home.

About the Contributor
Jillian Murrah, Reporter
Hey! I'm Jillian, a freshman writer for Holt Tribe. I love art, cats, and many different video games. I decided to join journalism to practice my writing...