Running For Each Other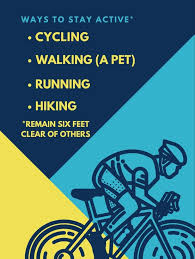 For many, being cooped up at home with not a lot to do can, and will, get old very fast. For some, the answer to that problem in this troubling time is running. This gives many an escape from everything that has been going on in the world recently, while also providing a very good exercise with countless benefits.
Running does a great deal of help to your cardiovascular system, and good cardiorespiratory health can prevent heart disease, lower your cholesterol, prevent type 2 diabetes, increase lung capacity and boost your overall immune system.  Now is better than any other time to improve your immune system.
The benefits don't stop there. If the countless news stories and reports coming out with little good news are causing confusion and stress for you as they are for many others, going for a run for exercise releases hormones in your brain called endorphins, which are the "feel good" chemicals proven to increase your mood and lower your perception of pain. Aerobic activities also increases the levels of cortisol in your body, which boosts information retention and memorization capabilities, so you're getting healthier and smarter just from going on a run.
With many gyms beginning the process of reopening, workout options are starting to open up, but running will continue to be one of the safest and easiest options since no equipment is required. 
Some have even used this to not only benefit themselves, but also running for a better cause like a man from Wilmington, North Carolina. Russell Larkins, a Marine veteran and medical assistant who is calling his run across the country "A million miles against COVID", Larkin's is setting out to raise money for the fight against Covid-19 and bring awareness to stress and anxiety relief. He plans to give the money raised to families that aren't getting unemployment for whatever reason and can't afford to pay the bills. He plans to finish this 3,000 mile journey within two months, running around 50 miles per day.
People like this are taking things as simple as running and using it to benefit those around them and bring awareness to some of the problems we are facing in today's world.

About the Writer

Ethan Kuhn, Writer
My name is Ethan Kuhn and this is my first year as a editor for Holt Tribe. I am a junior and have past experience in journalism, I look to make a major...