Quarantine Fitness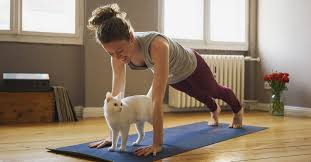 With everyone being stuck at home, eating everything in the house can be very tempting. But once one squashes down that temptation, fitness can be achieved even though we are at home. Athletes such as runners, swimmers, gymnasts, and any other athlete can be worried about how to train at home without their equipment. Or even if someone is just someone trying to beat their fitness score, nothing is impossible.
Many videos and tips have been going viral since the stay at home order. One idea has been circling the running community: virtual running. All that is required is some imagination, some room in your house, and the Internet. With these items, one can have a virtual running session; even in their bedroom. One man on TikTok has gone viral by running 15 miles; by just running in a circle around his bed. Although some might not be that committed, doing just some simple jumping jacks, push-ups, or even running up and down the stairs can be a way to stay active in your house while still losing weight or achieving your goal.
So, even while quarantine keeps everyone at home, your fitness goals can still be achieved with some creativity and commitment. With passion and mind, anyone can do anything they could do at a gym; with just some modifications, and a touch of personal creativity. 

About the Contributor
Aspen Deslongchamps, Editor-In-Chief
Hi! My name is Aspen, and I am one of two Editor-In-Chiefs this year. I enjoy martial arts, listening to music, and writing. I am hoping to help us grow...