Beginnings of a New School
The new high school is set to open next fall of the 2021/22 year.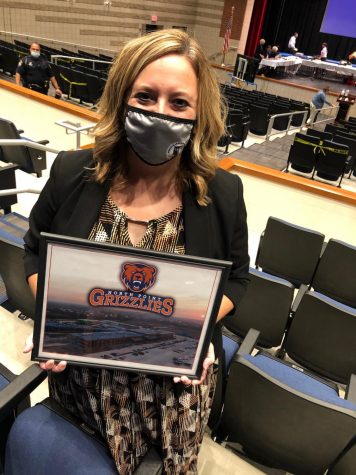 There's a load of new info coming out about the new high school, like that of the newly announced mascot! For the 2021-22 school year, the brand new school is going to be called North Point High School and the mascot is the grizzly, with the schools' colors being navy blue and orange.
Dr. Shelmire, the new principal of this high school, allowed kindergarten through sophomore students to submit their suggestions for a new name and a mascot, and over 260 names were suggested.
"I think it's great that the new high school is going to have a new mascot. I've personally never liked having a Native American as our mascot because it just feels wrong," Josephyne Crigger ('23) said regarding the new mascot.
North Point is currently under construction at the corner of North Point Prarie Road and West Meyer Road, and the school is 310,000 square-feet. With the 2020-21 year just beginning, the new school will be open for current freshmen and sophomores to transfer, while juniors and seniors will stay for the remainder of their high school career.
"Personally I don't mind, as I think it'll be easier for me to make friends if a lot of people are separated from new ones with the change," Jillian Murrah-Rose (23′) said.
In terms of the new principal, Dr. Shelmire is going to be filling that role in the new high school.
"It's great, she's gonna do an awesome job as the new principal," Dr. Jacob Adams said.
"Well deserved!" Secretary Linda Walters said.
With any new high school, a name and a mascot are vital to what values a school holds. What it is and what it stands for would be determined by whatever mascot the school has, and is something to take pride in. With this brand new school, it's exciting to see what identity the school is going to have, and how they're going to show their pride.
About the Contributor
Chloe Gee, Reporter
Hey! My name is Chloe Gee, but go simply by Lo most often. I love hiking and climbing trees. I'm a sophomore at Holt, and this is my first year on the...