Too Close to Call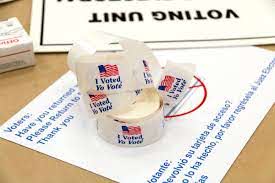 Most people have heard about the 2020 Presidential Election even if they don't live in the United States. This race between the two main candidates, the Republican candidate and current President Donald Trump and the Democrat candidate and former Senator and Vice President, Joe Biden.
Biden's campaign is mainly focused on how COVID-19 is going to be handled, solving climate change and making healthcare more affordable. President Trump's campaign is based on promising to improve the economy.
Many people have been watching the live election updates ever since Tuesday. Regardless of who you support everyone can agree this election is very important and stressful. No matter who wins, people are going to get upset.
There are news stations on both sides, some saying that Trump has zero chance and some saying that Biden has zero chance. There is also a lot of controversy on whether or not the mail-in voting is causing more problems and prolonging the counting of the ballots this year.
There are also reports of people boarding up their businesses in fear of protests and riots after the results of the election come out. Everyone is entitled to their own opinion and I think we all agree that no matter who wins we hope that they run the country well, no lives are lost and no businesses are destroyed by riots.