Impractical Jokers On A Big Screen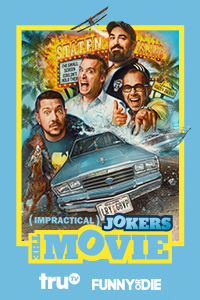 From being four childhood friends who compete to embarrass each other to now airing their own movie, the "Impractical Jokers" are a household name. "Impractical Jokers" is an American hidden camera series that premiered on December 15, 2011. 
It was confirmed that there would be a movie for "Impractical Jokers", which they began filming for in April 2018. Students who have been watching "Impractical Jokers" did not even know about them having their own movie. Jillian Murrah-Rose ('23) is one of those people. 
"I just found out. I might be interested in seeing it," Murrah-Rose said.
With the show already being quite popular, there are still people who do not know who the "Impractical Jokers" are. The production company TruTV choosing to release a movie on these friends is another way for them to gain more popularity. Elijah Angleton ('23) explains his point of view.
"I expect their show will probably become a lot more popular, and I think they will keep doing it for years to come," Angleton said. 
Seeing some of the recent movies released from past months and even years, may have sparked TruTV to create a movie about these friends. Ruth Fugate ('20) shows his side of TruTv releasing a movie about the "Impractical Jokers".
"I'm not surprised. There's other movies out there of people doing pranks," Fugate said.
There are the fans that know everything going on related to "Impractical Jokers", while some fans might not know the information as quickly. Ashtyn Heuer ('22) suggests what might happen during the movie.
"To be honest I have only seen some of the television so I'm not sure but maybe a lot more jokes that will have everyone laughing their butts off," Heuer said.
With the fans already knowing what the "Impractical Jokers" do on their show, some still expect there might be something different. Lillian Blair ('23) expects the usual from their show. 
"I expect the movie to be hilarious and for them to just do what they have always done, their show, and even more," Blair said.
On Friday, February 21, 2020, there will surely be laughter in the theatres. It has been said that the "Impractical Jokers" will be surprising different theatres on the premiere day. This could lead up to new opportunities for the production team and even the "Impractical Jokers" themselves.