New Mask Policies and Regulations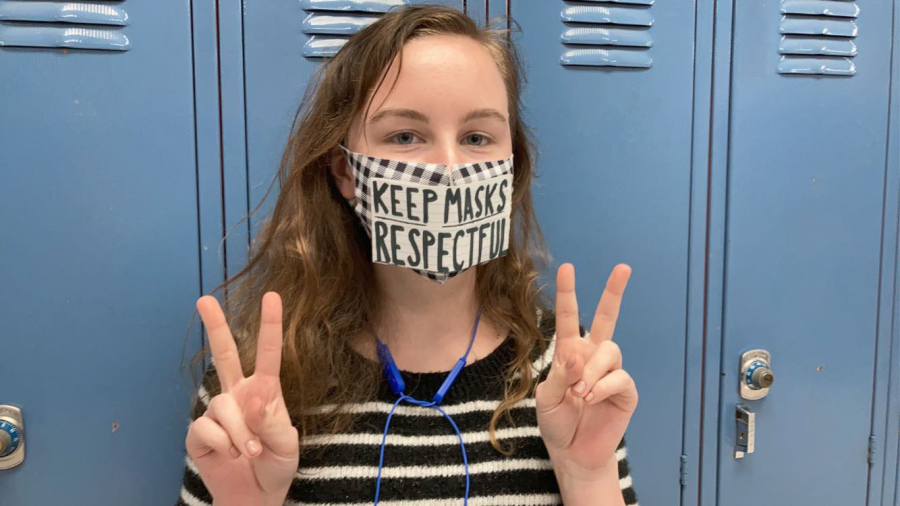 Since the beginning of 2020, people around the world have been required and suggested to wear masks. Even though some find this new aspect of their life difficult or annoying, many people have started to use these face coverings to express themselves, just like any other form of clothing. However, when it comes to school, some of the masks people have chosen to express themselves by wearing have been deemed inappropriate. 
The Board of Education originally adopted the "Student Dress" policy on July 1st, 2003. As of October 15th, 2020, that policy has been updated to accommodate any updated regulations. The updated policy is listed, word for word, below.
"The Board of Education expects student dress and grooming that aligns with community standards, so that each student may share in promoting a climate of belonging within which the value and worth of every student is honored within the school district. This expectation includes the school day and school sponsored extracurricular activities. The Board may require students to wear a school uniform.
"Students shall observe modes of dress and standards of personal grooming that align with the educational environment and necessary to maintain an orderly and safe atmosphere for all students. Apparel is expected to conform to reasonable student standards of modesty, and as such, no excessive or inappropriate areas of skin or under garments may be exposed. No apparel or grooming is permitted that has the potential to incite conflict and violence, including, but not limited to gang-related messages, hate/bias symbols, sexually explicit, vulgar, violent messages, or advocating illegal activities. Further, no clothing or personal grooming that disrupts, or can be forecasted to disrupt, the educational environment is permitted."
In summary, the Board of Education has said that any apparel or personal grooming that is deemed violent, inappropriate or disruptful by the principal is forbidden from being worn at school or school activities/events. Students can report anything they think might fall under any of the following descriptions, but in the end it is up to the principal to decide if the apparel can be worn to school or not. So the next time you are looking for a mask to express yourself with (or any clothing item, for that matter), make sure it falls under these updated policies and regulations, to keep up a safe and unoffending school environment for everyone.

About the Contributor
Noele Lehnhoff, Reporter
My name is Noele Lehnhoff. I'm a junior, and I'm a writer for our school's magazine. I have always had a love for creative writing, and in the past...