"Love, Simon" Review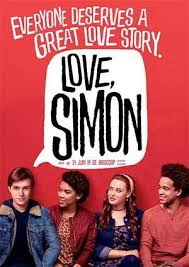 "Love, Simon" is a life changing love story that defies the heteronormativity of Hollywood.  Simon Spier is very adamant about how 'normal' his life is, but the thing holding him back from living his life to the fullest is a scary secret: He's gay.
He hasn't told anyone in his life except for an anonymous author that wrote a blog post that he, himself was a closeted gay. Simon had never felt comfortable talking about his sexuality with anyone, until he 'met' Blue. Blue was that anonymous blog poster. Simon wrote a letters to Blue under the alias Jaques. After many emails, being blackmailed, falling in love, publicly outed, and a very long ferris wheel ride, Simon met Blue face to face and lets just say it wasn't anything less than magical.
The amount of character development that was fit into a two hour film was amazing. The  love and simultaneous heartache that Simon felt was portrayed by Nick Robinson incredibly. Sitting in the audience all of the emotions that the characters felt was depicted so well that the audience felt them just as strongly.
The mood of the film could change in a second, from light, fun and quirky to heavy, emotional and heartfelt. For someone like myself who is a crier during movies, this movie was definitely a roller coaster.
A few scenes that really tested my water works were where Simon finally came out too his parents. As someone who has personally had too experience how hard that situation can be, I loved the way it was written.
Another amazing scene, hands down my favorite in the entire film, was the ferris wheel scene. Towards the end, Simon's attempt to meet the real Blue, was by far the most magical scene that just makes the audience feel something.
Whether the audience is gay or straight, this movie will without a doubt make you feel something. The LGBT representation was pleasantly accurate and made me very excited for the future of Hollywood. I have not been this happy and impressed with a movie in a while. I  highly, highly recommend "Love, Simon".